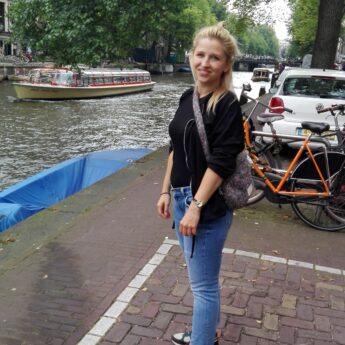 Humans of CentrALT/FestivALT
Hanna Szpil-Backer
Short bio
Hanna is Master of Arts by training and passion, and curator of exhibitions. She is also a passionate advocate of bicycles as a means of urban transportation. For years she was a co-coordinator of one of the first and biggest bicycle festivals in Poland – Cyclic Festival.
Professionally, she is associated with Galeria BB, where she produced exhibitions and carried out her first curatorial project, the exhibition "od-ZYSK – recycling, upcycling design" and the ecological foundation Aeris Futuro, for which she held exhibitions in Krakow and Warsaw.
She lived in Amsterdam for several years, where she curated and directed the Children's Museum project, which introduced children to topics such as art and museums and gave them the opportunity to learn about different means of expression and artistic disciplines. Also in Amsterdam, she worked at the festival Tuinen van West.
Since 2020, she has been associated with FestivALT as an event producer and volunteer coordinator.