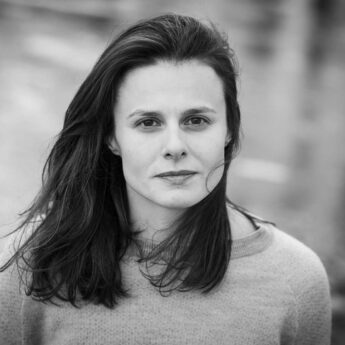 Weronika Pelczyńska
Short bio
Weronika Pelczyńska, a Graduate of the Salzburg Experimental Academy of Dance (SEAD), the Warsaw University of Technology (Faculty of Production Engineering and Faculty of Management) and the University of Warsaw (Institute of Polish Culture).
Scholarship holder of the following programs: DanceWEB 2013 (ImPulsTanz, Vienna), Carte Blanche 2013 (Modul-Dance, Slovenia) and the Alternative Dance Academy 2017 and 2019 (Art Stations Foundation in Poznań).
As a dancer and performer, she has collaborated with choreographers in Poland, Germany, Austria, France and Croatia, including: M. Kejžar, D. Freeman, M. Stokłosa, S. Thiersch, J. Fruck, L. Kapetanea, J. Wieland, R. Giovanola, A. Nowicka and B. J. Riepe.
Since 2010, she has been preparing choreography for the theater, films and music videos. Ms. Pelczyńska cooperates closely with A. Glińska, A. Seniuk, M.Szpecht, R. Jarosz and G. Laszuk.
Moreover, Ms. Pelczyńska has also worked with B. Sass-Zdort, Z. Solakiewicz, B. Prokopowicz, A. Grzeszykowska, A. Holland, M. Marczak and P. Passini.
Since 2011 she has been producing individual and collective artistic projects (including "yvonne yvonne", "Europa. Investigation", "hunting", "today my birthday", "it will come later", "kula", "Still Standing" ").
Between 2017 and 2019, she curated the Movement at the Institute programme – regular movement and body awareness classes for actors, performers and theater troupes.
Since 2018, she has been cooperating with the researcher Aleksandra Janus, exploring the subject of the body, choreography and memory in relation to the museum space, these endeavors resulted in the powerful "Still Standing" project created for FestivALT.
She conducts classes at the Theater Academy in Warsaw in the field of Theater Studies. She also co-creates Center in Motion, the iCoDaCo collective and the Sisterhood Practice Initiative.
Photo M. Ankiersztejn